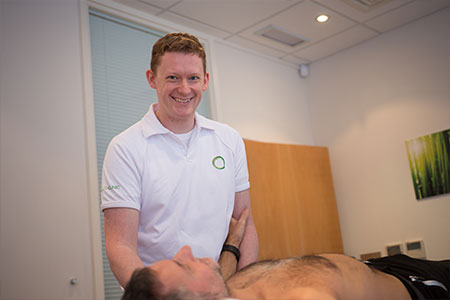 03 Apr

Meet Toby one of the Osteopaths at Openhealth

Here at the Openhealth Clinic, we are a close-knit team and work together to ensure that we offer the best physiotherapy, osteopathy, sports massage and acupuncture treatments in and around Ascot – Today we have an interview with Toby Pollard-Smith who is one of the Osteopaths at Openhealth.

If you have any questions for Toby or want to know more about any of the treatments that we offer then please get in touch with a member of the team today!

My name is Toby and I qualified as an Osteopath in 2014. I got a Master's degree from the British School of Osteopathy (now the University College of Osteopathy)
What made you choose
osteopathy
as a career?
I used to be a professional ballet dancer and having been on the treatment table plenty of times, I thought it was time to make the jump to become the fixer, not the person who needed fixing! From my experience of injuries, I chose osteopathy as it seemed to have more of the answers that I had been looking for.
How long have you been working as an
osteopath
?
I qualified as an osteopath in 2014 and have been doing it since then.
What do you enjoy the most about your job?
I like meeting different people and realising that no matter how similar two injuries might seem they need to be tackled differently in each and every patient. I also love the detective part of the job, figuring out the tricky cases.
What is the main piece of advice you give to new patients?
I do a lot of education with patients so they understand what has happened, how it will get better, and how we are going to do it. Patients have to be involved in their treatment as we only see them for one tiny period in their busy lives!
Why is
osteopathy
important to you?
Osteopathy is more than muscles or joints in isolation. It's focus is health, and how our mechanical wellbeing affects everything and vice versa.
Why do you enjoy working for the Openhealth Clinic?
It doesn't feel like work really. I love my job and am lucky to work with a group of people who feel like a family rather than a set of colleagues. We learn from each other, help each other, and treat patients like they're an extended part of the family.
Outside of work what do you enjoy doing?
I have two little girls who keep me busy. I also love cooking, music and reading. I suddenly realise how middle-aged that makes me sounds…
We hope you have learnt something new about the Openhealth Clinic team today and we look forward to helping you with any physiotherapy, osteopathy, sports massage and acupuncture-related treatments.
Please get in touch if you would like to book your first session.
Jack is part of the marketing team and enjoys helping patients understand the treatments offered at Openhealth and the positive effect that Osteopathy & Physiotherapy can have on peoples lives.