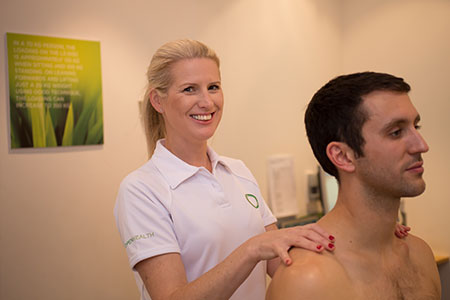 19 Jun

Meet Rebecca one of the Physiotherapists at Openhealth

Here at the Openhealth Clinic, we are a close-knit team and work together to ensure that we offer the best physiotherapy, osteopathy, sports massage and acupuncture treatments in and around Ascot – Today we have an interview with Rebecca who is one of the Physios at Openhealth.

If you have any questions for Rebecca or want to know more about any of the treatments that we offer then please get in touch with a member of the team today!

My name is Rebecca and I studied my BSc Physiotherapy in Newcastle in 1995. Prior to this, I trained in Sports Therapy and some fitness courses, completing these in 1993.
What made you choose physiotherapy (osteopathy, sports massage, acupuncture) as a career?
I wanted to train in a career where I helped people get better. I liked the idea of manual treatments and rehabilitation, so physiotherapy seemed the ideal path to take.
How long have you been working as a Physiotherapist?
I had been working as a Sports Therapist since 1993 and a Physiotherapist since 1998.
What do you enjoy the most about your job?
The variety of conditions we treat in the clinic and that no two patients are the same.
What is the main piece of advice you give to new patients?
You may be a bit sore after an initial treatment, but this will pass.
Why is physiotherapy (osteopathy, sports massage, acupuncture) important to you?
Its great to have a job where we can help get people better and back to a pain-free life, often enabling them to get back to the things they enjoy.
Why do you enjoy working for the Openhealth Clinic?
It's a great multi-disciplinary team and patients are 'shared' where appropriate to get the best result for the patient.
Robbie and Julia make great coffee.
Outside of work what do you enjoy doing?
Running around taking my young son to children's parties and football matches.
Drinking wine.
Tidying up after my husband and son.
We hope you have learnt something new about the Openhealth Clinic team today and we look forward to helping you with any physiotherapy, osteopathy, sports massage and acupuncture-related treatments. Check out the range of Physios in Ascot that we have by heading over to the link provided. 
Please get in touch if you would like to book your first session.
Jack is part of the marketing team and enjoys helping patients understand the treatments offered at Openhealth and the positive effect that Osteopathy & Physiotherapy can have on peoples lives.